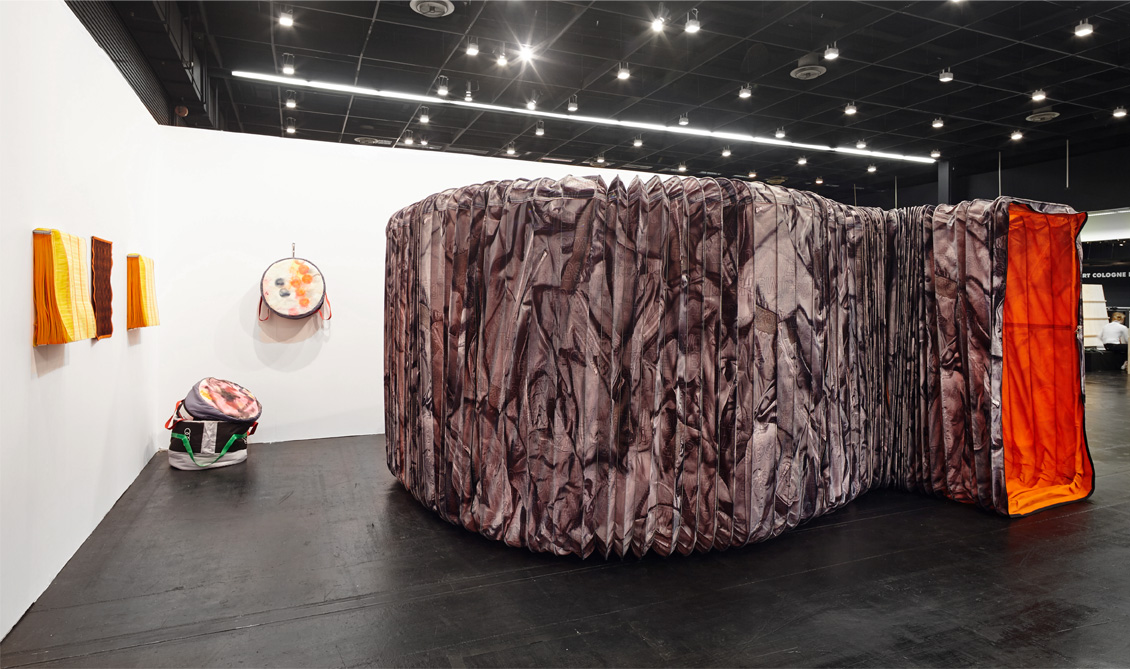 Within the context of the Art Cologne 2018 LRRH_ ART EDITION BY present three current editions by Johannes Wohnseifer.
All of his works are characterized by an interest in transitory structures and motion.
So the artist shifts bellows, usually used in busses or airports – transport vehicles or locations of passage – into an exhibition context; as self-supporting, modular sculpture. Four 4.5 meters long and 2.1 meters high modules can be zipped together to form an up to twelve meters long spatial structure. Its translucent, perforated fabric is printed with bomber jacket and password motives and coated with orange colour on the inside.
The context of motion is set against the studio, as a location of a continuous workflow, of collecting and archiving. The passwords were the topic and formal elements of one of Wohnseifer's former series; as well as the historical exploration of the 1990s and the fashion designer Helmut Lang.
The motives of the second edition – 12 b/w subli-transfer prints on network fabric, also come from the template archive of the artist. In each of them Wohnseifer overrides the rigour of the casually photographed grids and patterns in a subtle play with shadow and light. Like the bellows they can be zipped together to create a total picture of up to 2 x 1.5 meters.
For the third edition original, second-used flippers were provided with painted canvas (another referral to the artist's studio) and embroideries on the handles. It involves three versions: VW, Audi and Porsche, each with a number of 4 copies + 2 ap.
Additionally to the works of Johannes Wohnseifer LRRH_ shows editions by Erika Hock, Katharina Grosse, Anselm Reyle, Fort, Caroline Kryzecki, Marc Brandenburg, Huang Rui, Alicja Kwade, Christian Aberle and others.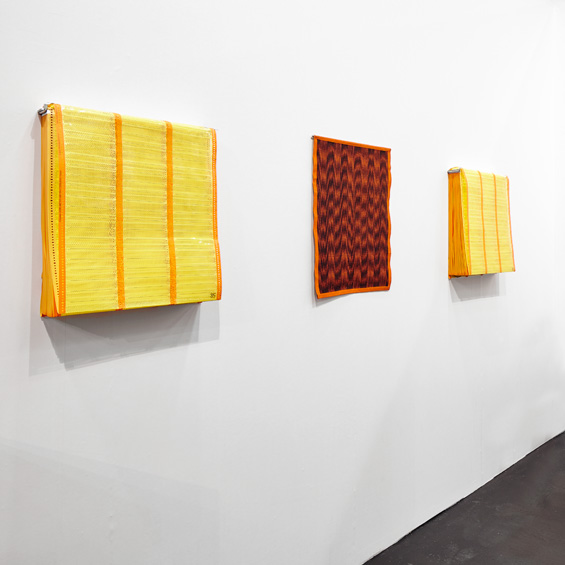 CAROLINE KRYZECKI
JAC – KSZ 50/35–69 (2018)
installation view at Art Cologne 2018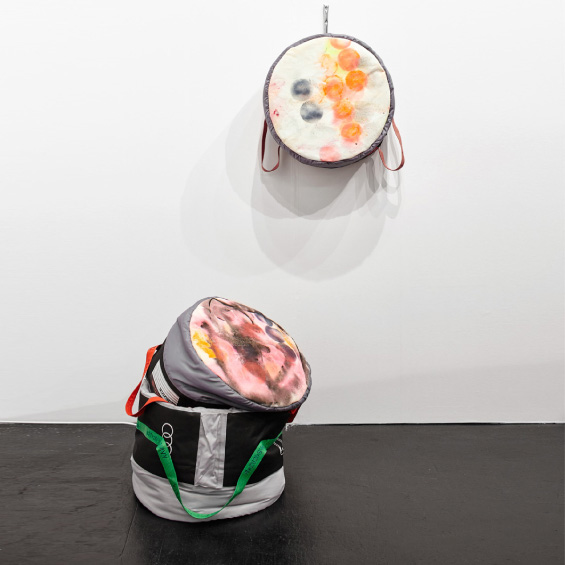 JOHANNES WOHNSEIFER
REIFENTASCHE (2018)
installation view at Art Cologne 2018
ART COLOGNE
 2018

HALL 11.3, SPACE B – 038
PREVIEW
WEDNESDAY APRIL 18, 2018
2 – 9 PM
PUBLIC DAYS
THURSDAY APRIL 19 – SATURDAY APRIL 21, 2018
11 AM – 7 PM
SUNDAY APRIL 22, 2018
11 AM – 6 PM
VIDEO BY
Hannah Stragholz & Simon Steinhorst
SOUND BY
Lasse Munk
THANKS TO
Almut Warttinger, Textil- und Flächendesign
Eschler Textil GmbH
Leyla Koc
Lioba Schneider
Mayer Textildruckerei
Plissee Becker
SUPPORTED BY
August Penkert
Corneille Uedingslohmann Architekten
Mike Meiré