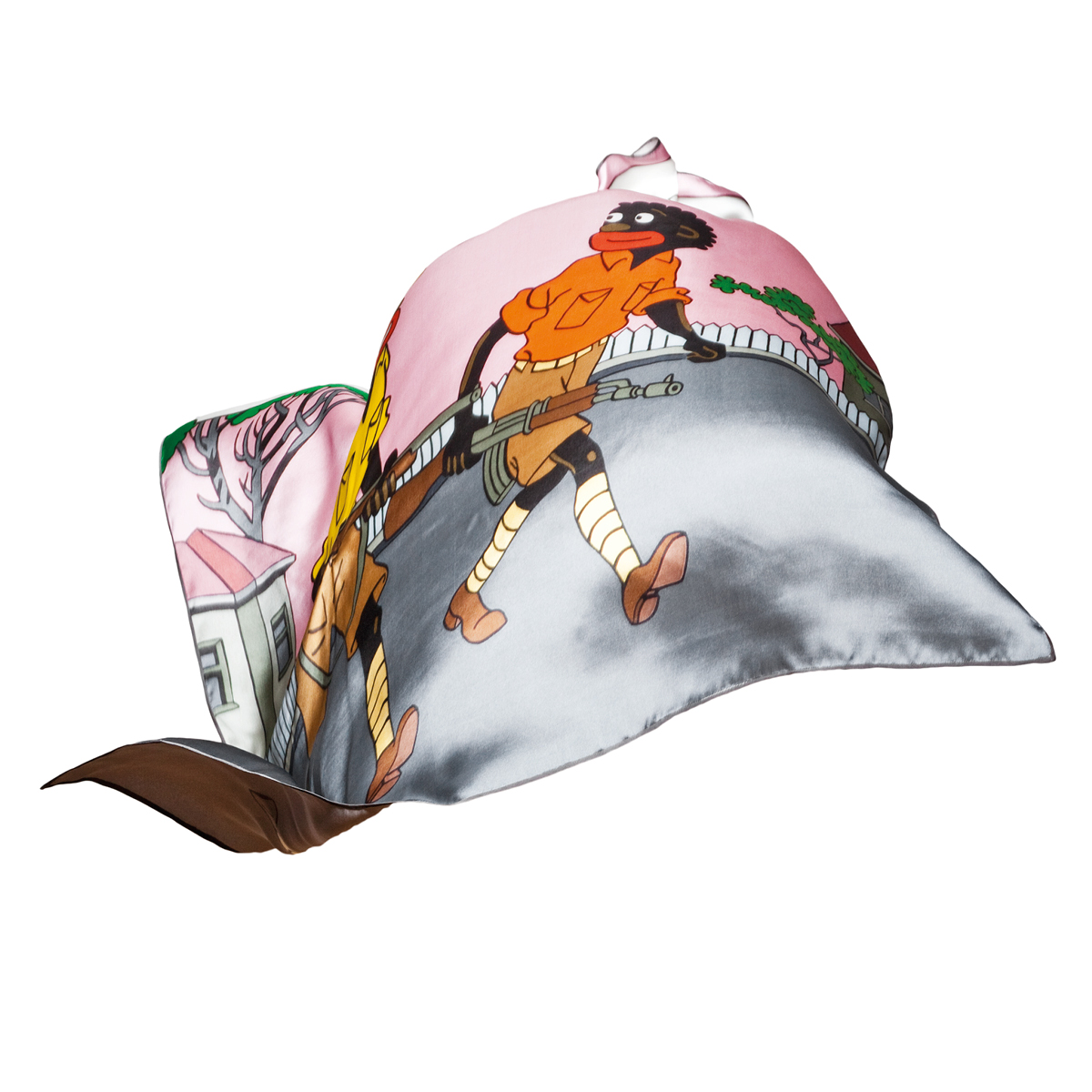 ANTON KANNEMEYER

600

€

I love the white middle class (2011)

Digital printed & double layered silk tapestry
100 x 100 cm / 39.4 x 39.4 inch

Edition 10 + 2 APs

Sold

View edition
Born in Cape Town, South Africa, Anton Kannemeyer obtained a MA in Fine Arts from Stellenbrosch University. He subsequently lectured in fine art and illustration for a number of years before devoting himself full-time to his own works. Kannemeyer might be best known for his Bitterkomix publications(under the nom de plume of Joe Dog), including 15 editions, The Big Bitterkomix Handbook and several compilations. His work often aim at bringing to attention the coninued existence of racism and double standards in South African society, and have been exhibited and published extensively in south Africa as well as internationally. Recent exhibitions include shows in the United States, the Democratic Republic oft he Congo, Austria, Finland, France, the Netherlands and South Africa. Anton Kannemeyer gets represented by Stevenson Gallery, Cape Town/Johannesburg, South Africa and Jack Shainman Gallery, New York.
Anton Kannemeyer wurde in Kapstadt, Südafrika, geboren. An der Universität Stellenbosch erhielt er seinen M.A. in Bildender Kunst. Es folgten Lehraufträge in Bildender Kunst und Illustration, bevor er sich schließlich völlig dem eigenen Werk zu widmen begann. Kannemeyer ist vor allem bekannt für seine "Bitterkomix"( unter dem Künstlernamen Joe Dog), die 15 Editionen umfassen, sowie das "Big Bad Bitterkomix Handbuch" und mehrere Sammelbände. Seine Arbeiten schaffen oft Aufmerksamkeit für den fortbestehenden Rassismus und soziale Doppelmoral in der südafrikanischen Gesellschaft und werden sowohl lokal als auch weltweit umfangreich ausgestellt und publiziert. So zuletzt in den Vereinigten Staaten, in der demokratischen Republik Kongo, in Österreich, Finnland, Frankreich, den Nierderlanden und Südafrika. Anton Kannemeyers Werk ist Bestandteil der ständigen Sammlung des Museums of Modern Art in New York. Er wird von den Galerien Stevenson, Kapstadt/Johannesburg, Südafrika und Jack Shainman, New York vetreten.