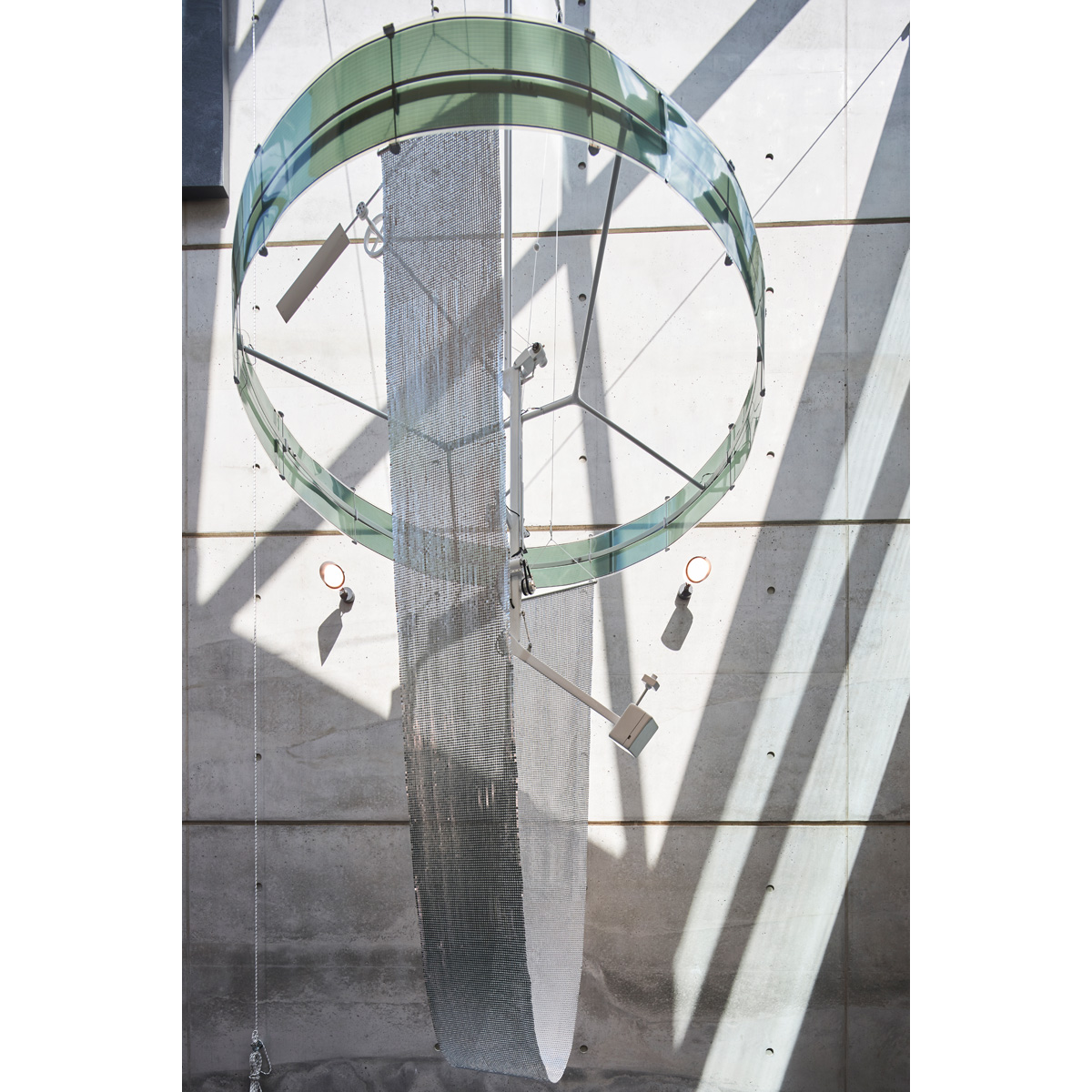 BJÖRN SCHÜLKE

Solar Mesh Dance (2021)

Aluminum, wood, GRP, 2K paint, aluminium mesh, flexible organic solar films, controllers, engines, sensors, LEDs
Height 600 cm, diameter 250 cm / Height 236 inch, diameter 98.4 inch

Edition of 1

Available

BJÖRN SCHÜLKE

1.600

€

Solar Mesh Dance, drawing (2021)

Graphite on paper
29.7 x 42 cm / 11.7 x 16.5 inch

Edition of 1

Available

View edition
BJÖRN SCHÜLKE

Solar Mesh Machine #1 (2021)

Brass, metal mesh, engine, solar module, electronics, 2K paint
38 x 8 x 13 cm / 15 x 3.15 x 5.1 in

Edition of 7 + 2 APs

Available

BJÖRN SCHÜLKE

Solar Mesh Machine #2 (2021)

Brass, metal mesh, engine, solar module, electronics, 2K paint
38 x 7 x 6 cm / 15 x 2.7 x 2.4 inch

Edition of 7 + 2 APs

Available

BJÖRN SCHÜLKE

Solar Mesh Machine #3 (2021)

Brass, metal mesh, mirror, engine, solar module, electronics, 2K paint
33 x 9 x 9 cm / 13 x 3.5 x 3.5 inch

Edition of 7 + 2 APs

Available
Björn Schülke, born 1967 in Cologne, pursues a creative style that is equally influenced by modern abstraction and instruments of scientific measurement. Many of his larger kinetic sculptures combine elements of surveillance technologies, robotics, interactive video and sound.
Precision plays an important role in Schülke's practice as a sculptor, especially in terms of how aesthetics and engineering are handled.
Often he is working with carbon fiber, aluminum, 2K-paint, cameras, screens, motors, solar cells, motion sensors.
The visual language he use is part futuristic commercial product, part clinical research equipment and also part curiosity cabinet. Fragile constructions, organic form and technology are all part of the vocabulary in his aesthetic. Clean objects that reference the cold precision of industrial machines and science fiction. However Schülke like contrasting this with a warmth and gesture of a comic, fun or even embarrassing human relationship to form. They are in a world of inventions that function in an unexpected way. Evoking the tools of modern observation and precision, his work suggests artificial intelligence as well as absurdity. Schuelke's active sculptures question the way in which we interact with modern technology.
Schülke studied photo/film design in Bielefeld and postgraduated at the Academy of Media Art (KHM), Cologne, in the class of Valie Export.
He received the German Video-Installation-Award. In 2010 he completed "Space Observer", a permanent 28-foot interactive sculpture for the San Jose international airport.
Selected exhibitions of Schülke's work include the Museum Marta Herford, Museum Ulm, Kunsthalle Kiel, NAMOC, Beijing; Daelim Contemporary Art Museum, Seoul, Korea; Telfair Museum of Arts, Savannah; Boghossian Foundation – Villa Empain, Brussels; Borusan Contemporary, Istanbul, Turkey; Circulo de Bellas Artes, Madrid; Neue Gesellschaft für Bildende Kunst, Berlin and the Biennale of Electronic Arts, Perth; gallery Rachel Haferkamp, Cologne; bitforms gallery, New York.
Björn Schülke wurde 1967 in Köln geboren. Sein künstlerischer Stil ist von moderner Abstraktion und vom Erscheinungsbild wissenschaftlicher Messinstrumente beeinflußt.
Viele seiner größeren kinetischen Skulpturen kombinieren Elemente von Überwachungstechnologien, Robotik, interaktivem Video und Sound.
Präzision spielt in Schülkes bildhauerischer Praxis eine wichtige Rolle, insbesondere im Umgang mit Ästhetik und Technik.
Er arbeitet oft mit Kohlefaser, Aluminium, 2K-Lack, Kameras, Bildschirmen, Motoren, Solarzellen und Bewegungssensoren.
Seine Objekte erinnern an futuristische Handelsprodukte und klinische Forschungsgeräte, und könnten auch aus Kuriositätenkabinetten stammen. Sein künstlerisches Vokabular umfasst fragile Konstruktionen, organische Formen und Technisches. Er schafft strenge Objekte, die auf die kalte Präzision von Industriemaschinen und Science-Fiction verweisen. Auf der anderen Seite haben sie eine gewisse Wärme und verweisen auf komische, lustige oder gar peinliche menschlicher Bezüge. Seine Objekte entstammen einer Welt von Erfindungen, die auf unerwartete Weise funktionieren. In Anlehnung an die Werkzeuge moderner Messung und Präzision steht seine Arbeit sowohl für künstliche Intelligenz als auch Absurdität. Schülkes aktive Skulpturen hinterfragen unseren Umgang mit moderner Technik.
Schülke studierte Foto- /Filmdesign in Bielefeld und promovierte in der Klasse von Valie Export an der Kunsthochschule für Medien (KHM), Köln. Er nahm an zahlreichen internationalen Ausstellungen teil und wurde mit dem Deutschen Video-Installations-Preis ausgezeichnet. Für den internationalen Flughafen von San Jose schuf er 2010 "Space Observer", eine permanente, mehr als acht Meter große, interaktive Skulptur.
Schülkes Werke wurden gezeigt u.a. im Museum Marta Herford, Museum Ulm, Kunsthalle Kiel, NAMOC, Peking, Daelim Museum für zeitgenössische Kunst, Seoul, Telfair-Kunstmuseum, Savannah, Boghossian Foundation – Villa Empain, Brüssel, Borusan Contemporary, Istanbul, Circulo de Bellas Artes, Madrid, Neue Gesellschaft für Bildende Kunst, Berlin, The Biennale of Electronic Arts, Perth, Galerie Rachel Haferkamp, ​​Köln und bitforms gallery, New York.