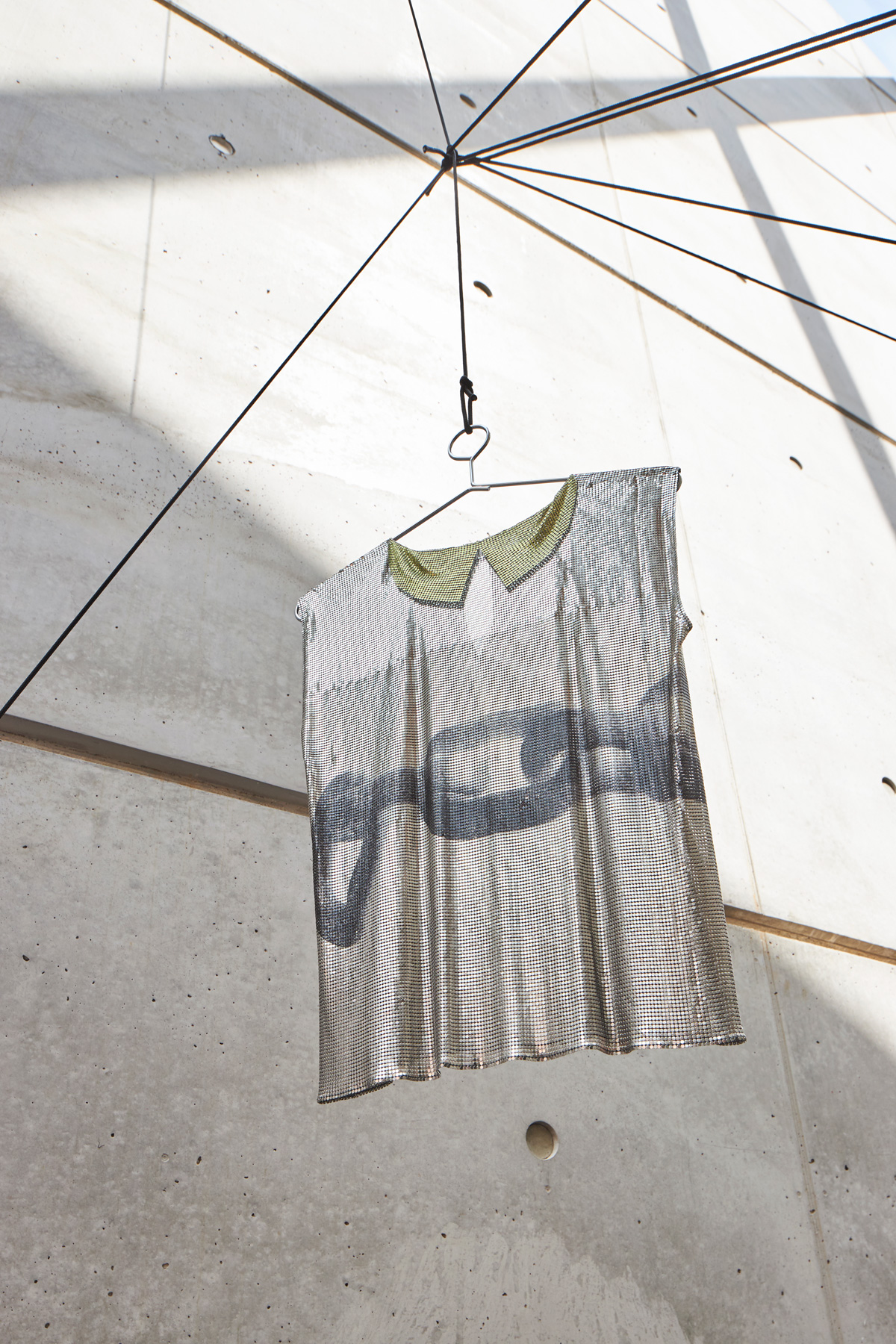 ROSEMARIE TROCKEL

Teeny a (2022)

Digitally printed brass mesh, hand confection
Size: S

Edition of 9 uniques, 1/9

Sold
ROSEMARIE TROCKEL

Teeny j (2022)

3-coloured screen print on Somerset cotton paper, framed
90 x 70 cm / 35.4 x 27.6 inch

Edition of 5 + 1 AP

Available

ROSEMARIE TROCKEL

Teeny k (2022)

2-coloured screen print on Somerset cotton paper, framed
87 x 70 cm / 34.3 x 27.6 inch

Edition of 5 + 1 AP

Available

ROSEMARIE TROCKEL

Teeny l (2022)

2-coloured screen print on Somerset cotton paper, framed
100 x 70 cm / 39.4 x 27.6 inch

Edition of 5 + 1 AP

Available

ROSEMARIE TROCKEL

Teeny m (2022)

2-coloured screen print on Somerset cotton paper, framed
70 x 100 cm / 27.6 x 39.4 inch

Edition of 5 + 1 AP

Available
ROSEMARIE TROCKEL

Vinylbag a (2022)

Digitally printed brass mesh, hand confection
38.5 x 38.5 x 3.5 cm / 15.1 x 15.1 x 1.4 in
Unique

Sold

ROSEMARIE TROCKEL

Vinylbag b (2022)

Digitally printed brass mesh, hand confection
38.5 x 38.5 x 3.5 cm / 15.1 x 15.1 x 1.4 in
Unique

Sold

ROSEMARIE TROCKEL

Vinylbag c (2022)

Digitally printed brass mesh, hand confection
38.5 x 38.5 x 3.5 cm / 15.1 x 15.1 x 1.4 in
Unique

Sold

ROSEMARIE TROCKEL

Vinylbag d (2022)

Digitally printed brass mesh, hand confection
38.5 x 38.5 x 3.5 cm / 15.1 x 15.1 x 1.4 in

Edition of 5 + 1 AP

Sold
ROSEMARIE TROCKEL

2.500

€

NoCaps (2020)
Edition 1/10

Aluminium mesh, 40 x 45 cm / 15.75 x 17.7 inch
Leather basecap, 56–59 cm / 7–7 ¼

Edition of 10 uniques + 2 APs

Sold

View edition

ROSEMARIE TROCKEL

NoCaps (2020)
Edition 2/10

Aluminium mesh, 40 x 45 cm / 15.75 x 17.7 inch
Leather basecap, 56–59 cm / 7–7 ¼

Edition of 10 uniques + 2 APs

Sold

ROSEMARIE TROCKEL

2.750

€

NoCaps (2020)
Edition 3/10

Aluminium mesh, 40 x 45 cm / 15.75 x 17.7 inch
Leather basecap, 56–59 cm / 7–7 ¼

Edition of 10 uniques + 2 APs

Sold

View edition

ROSEMARIE TROCKEL

NoCaps (2020)
Edition 4/10

Aluminium mesh, 40 x 45 cm / 15.75 x 17.7 inch
Leather basecap, 56–59 cm / 7–7 ¼

Edition of 10 uniques + 2 APs

Sold

ROSEMARIE TROCKEL

2.750

€

NoCaps (2020)
Edition 5/10

Aluminium mesh, 40 x 45 cm / 15.75 x 17.7 inch
Leather basecap, 56–59 cm / 7–7 ¼

Edition of 10 uniques + 2 APs

Sold

View edition

ROSEMARIE TROCKEL

2.750

€

NoCaps (2020)
Edition 6/10

Aluminium mesh, 40 x 45 cm / 15.75 x 17.7 inch
Leather basecap, 56–59 cm / 7–7 ¼

Edition of 10 uniques + 2 APs

Sold

View edition

ROSEMARIE TROCKEL

2.500

€

NoCaps (2020)
Edition 7/10

Aluminium mesh, 40 x 45 cm / 15.75 x 17.7 inch
Leather basecap, 56–59 cm / 7–7 ¼

Edition of 10 uniques + 2 APs

Sold

View edition

ROSEMARIE TROCKEL

2.750

€

NoCaps (2020)
Edition 8/10

Aluminium mesh, 40 x 45 cm / 15.7 x 17.7 in
Leather basecap, 56–59 cm / 7–7 ¼

Edition of 10 uniques + 2 APs

Sold

View edition

ROSEMARIE TROCKEL

2.750

€

NoCaps (2020)
Edition 9/10

Aluminium mesh, 40 x 45 cm / 15.75 x 17.7 inch
Leather basecap, 56–59 cm / 7–7 ¼

Edition of 10 uniques + 2 APs

Sold

View edition

ROSEMARIE TROCKEL

2.500

€

NoCaps (2020)
Edition 10/10

Aluminium mesh, 40 x 45 cm / 15.75 x 17.7 inch
Leather basecap, 56–59 cm / 7–7 ¼

Edition of 10 uniques + 2 APs

Sold

View edition
ROSEMARIE TROCKEL

Lesson – 1 (2020)

Aluminium mesh, 40 x 45 cm / 15.75 x 17.7 inch
Leather basecap, 56–59 cm / 7–7 ¼

Edition of 4

Available

ROSEMARIE TROCKEL

Lesson 1 (2020)
#1, white stars

Aluminium mesh, 40 x 45 cm / 15.75 x 17.7 inch
Leather basecap, 56–59 cm / 7–7 ¼

Edition of 5

Available

ROSEMARIE TROCKEL

Lesson 1 (2020)
#2, black stars

Aluminium mesh, 40 x 45 cm / 15.75 x 17.7 in
Leather basecap, 56–59 cm / 7–7 ¼

Edition of 5

Available
Rosemarie Trockel was born in 1952 in Schwerte, Germany. She is an artist working in the fields of drawing, installation, painting, sculpture and video. She studied at Werkkunstschule, Cologne, Germany, and was a professor at the Kunstakademie Düsseldorf, Germany. She became best known for her hand and machine knitted paintings, which regularly feature geometric motives or logos such as the Playboy Bunny or a hammer and sickle. Trockels work often discusses the work of established artists and famous artistic styles. She repeatedly themes specifically feminine gestures, whilst dissociating from socially connotated symbols and codes that define sexual identity and cultural gender-based constraints.
She has had solo exhibitions at Kunsthaus Bregenz, CH, Museum Ludwig, Cologne, D, Kunstmuseum Basel /Museum für Gegenwartskunst, CH, New Museum, New York, US, Raina Sofia, Madrid, ES, Serpentine Gallery, London, UK, amongst others. She participated in international art exhibitions such as Skulpturprojekte Münster, Biennale di Venezia and documenta and has won various art prizes, e.g. the Wolfgang Hahn Prize in 2004.
Rosemarie Trockel wurde 1952 in Schwerte geboren. Sie studierte an der Kölner Werkkunstschule und hat seit 1998 eine Professur an der Kunstakademie Düsseldorf inne. 
Trockels künstlerisches Werk umfasst Zeichnungen, Installationen, Malerei, Skulptur, Grafik und Videos. Bekannt wurde sie Mitte der 1980er Jahre durch ihre maschinengestrickten Bilder, auf denen oft geometrische Motive oder Logos der Werbung oder des kulturellen sowie politisch-gesellschaftlichen Umfeldes, wie der Playboy Hase oder Hammer und Sichel, zu sehen sind. Trockels Arbeiten beziehen sich zumeist auf Werke etablierter Künstlerinnen und Künstler und bedeutende künstlerische Diskurse. Immer wieder thematisiert sie spezifisch weibliche Gesten, distanziert sich dabei jedoch von geschlechtsbezogenen Zwängen und gesellschaftlich konnotierten Symbolen und Codes, welche die sexuelle Identität festlegen.
Sie hatte Einzelausstellungen u.a. im Kunsthaus Bregenz, CH, im Museum Ludwig, Köln, D, dem Kunstmuseum Basel/ Museum für Gegenwartskunst, CH, dem New Museum, New York, US, dem Raina Sofia, Madrid, ES und der Serpentine Gallery, London, UK. Sie nahm an internationalen Kunstausstellungen teil, z.B. den Skulpturprojekten Münster, der Biennale di Venezia sowie der documenta und wurde durch zahlreiche Kunstpreise ausgezeichnet, z.B. mit dem Wolfgang Hahn Preis 2004.